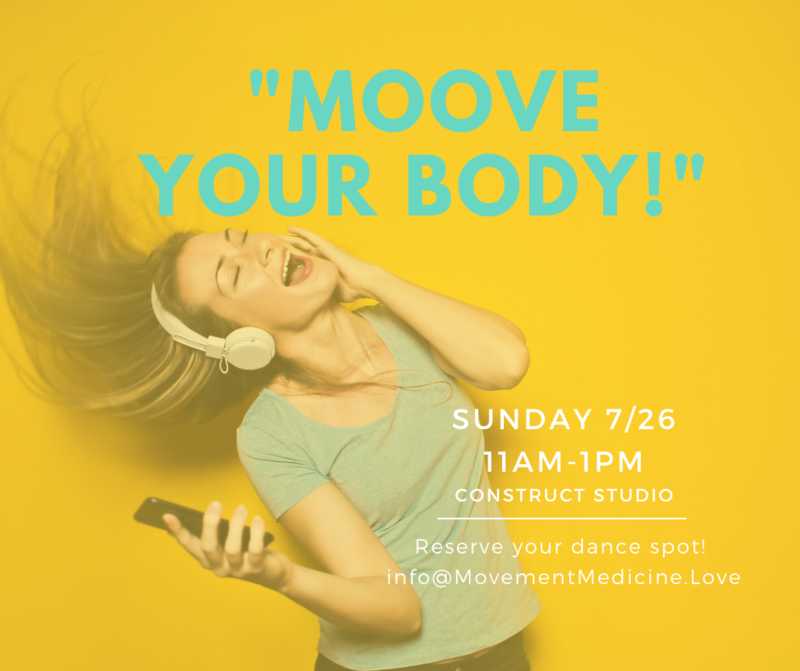 This event has ended
Sun Jul 26th 2020, 11:00 (GMT-05:00)

zoom
DANCE CHURCH
When: Sunday, July 26th (2nd & 4th Sundays of Month)
Timing: 11am - 1pm - We will set up and tear down together within this time!
Where: Construct Studio, 2121 Gains St, Nashville
Three steps to reserve your spot:
1. Agree to four agreements:
https://movementmedicine.love/lets-dance-again-6-28-20/
2. Invest your $20 via Venmo account @Holli-McCormick
3. Email me, Holli, info@MovementMedicine.Love to let me know you sent it along (vital so I can confirm receipt for you, or you can track down any mistakes!)
VIRTUAL DANCE
I have asked the team coming and they prefer not to be Live Streamed.  So to fit all our needs, the Zoom camera will be on the floor only so you will see feet at least.  Sets would be streamed via LiveSets.  Please follow these instructions below.
PLEASE CONSIDER AN ENERGY EXCHANGE via Venmo @Holli-McCormick
PLEASE SHARE THIS MEDICINE so others can join us!
NOTE: I will NOT be available to help with technical issues during the dance.  Follow these instructions below.  If you need more help, please see this post (scroll towards bottom.  I even filmed a video to help with this!)
Ensure you have both apps before Sundays Dance.  It is helpful if you have two different devices for each one.
Zoom
Livesets.com
Day of event - log onto each event:
Zoom Meeting:
https://us02web.zoom.us/j/9987300458?pwd=NW56T3I3Z2dSQllQUlQwUFlkSXFTZz09
Meeting ID: 998 730 0458
Password: morning
Livesets:
https://livesets.com/shaktichrist/events/7910